Location:
Canberra Crescent
Minimal aesthetic with maximum impact
With an interior that rivals that of modern Airbnbs and boutique hotels, Room III is a cozy 3-room BTO that was meant to be the forever home of a young Singaporean couple who have since moved to Hong Kong for work.
The name stems from the straight lines that can be spotted all over the apartment and the neatly aligned, minimalist interior that seems to belong to an interior decor magazine. The space now serves as a vacation home for the two when they return to Singapore to visit family.
Built with the standard floor plan that comes with every BTO project, this 3-room flat was transformed into a spacious studio apartment with an open-plan layout by knocking down various walls in the kitchen and bedrooms, conveniently combining two bedrooms into one to maximise space.
Light wood and lighter colours, such as white and light grey, are heavily utilised in the design of this space to give it a fresh and welcoming vibe.
The open concept of the apartment continues into the kitchen, where counter space is significantly reduced to make space for concealed storage and a counter that stretches out into the dining area, creating a dual purpose island perfect for both food preparation and dining. The kitchen is then finished off with a marble tabletop and backsplash that completes its minimal aesthetic.
​
One vastly different aspect of Room III compared to other BTO units is that the entrance to the master bedroom sits farther down the corridor, effectively housing both the guest and ensuite bathrooms in the same room.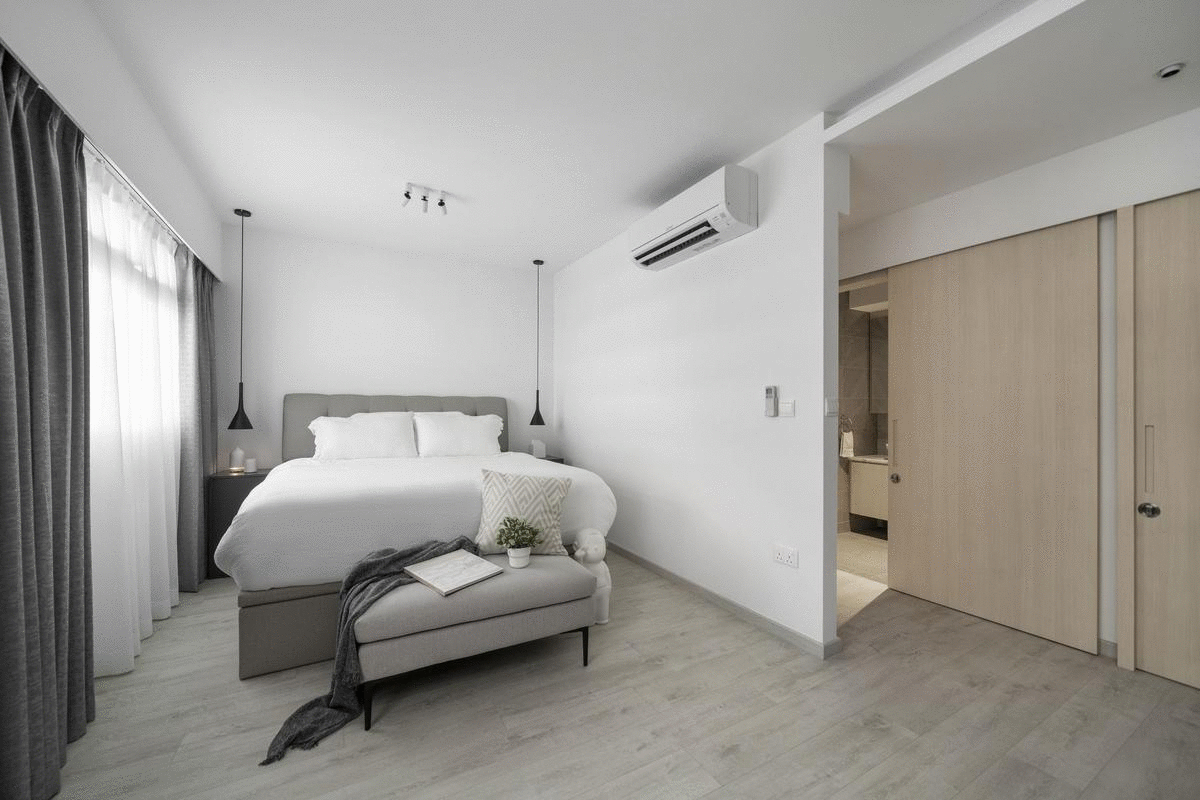 The bathrooms are decked in two main colours, muted beige and dark grey, with the dark grey tiles in the wet bathroom aligned to match the height of the bathtub for a clean look.
The master bedroom boasts the same colour theme as the bathrooms and every detail is kept bare, down to the built-in wardrobe with concealed handles that hark back to the neat, minimal concept of Room III.
A grooved wood panel was erected by the entryway to obscure the door to the bombshelter and doubles up as a feature wall that connects to a floor-to-ceiling cabinet fitted with a cubbyhole turned mini pantry and bar area.
​
​Illuminating the living area is a bright neon sign – a celebration of the homeowners' love of Hong Kong, where neon signs are aplenty and are a staple of the busy city's nightscape – and concealed cove lighting that cleverly helps save floor space.